Mink oil is an oily product extracted from the fat of minks. Mink is an animal that belongs to the same family as wolverines and otters. This oil is used in many skin care products because of its health benefitting proeprties for skin. It is also a prominent ingredient in leather polish. One can use mink oil to polish leather shoes directly. There are many claims made about the health benefits of mink oil, however, only a few of them have been identified till now. Another important thing to note regarding mink oil is its purity. Before buying mink oil, make sure that it is pure. Mink oil is thick but non greasy oil which feels like wax. It is light and gets absorbed quickly like a cream. We usually don't use 100 % mink oil. It is mostly added with other ingredients to achieve a creamy texture, like solidified coconut oil.
Source
Mink oil comes from fat of minks. They are small mammals that are found in Europe and America. They are used for obtaining fur, which is highly prized. Mink oil is a side product of the fur industry. The largest producer of mink products is Denmark. These animals have a thick layer of fat under their skin which is first extracted and then processed to produce mink oil. This fat is insulating in nature, that is it keeps the skin insulated ( heat protected ) from the effects of heat or cold. This property is made use in skin care products. However, this is not the only property of mink oil. Contrary to a  popular myth, minks can suffer from skin diseases. So, it is important that your mink oil comes from healthy minks, and not from unhealthy or diseased minks. That is another reason to be make sure that you buy a high quality mink oil product.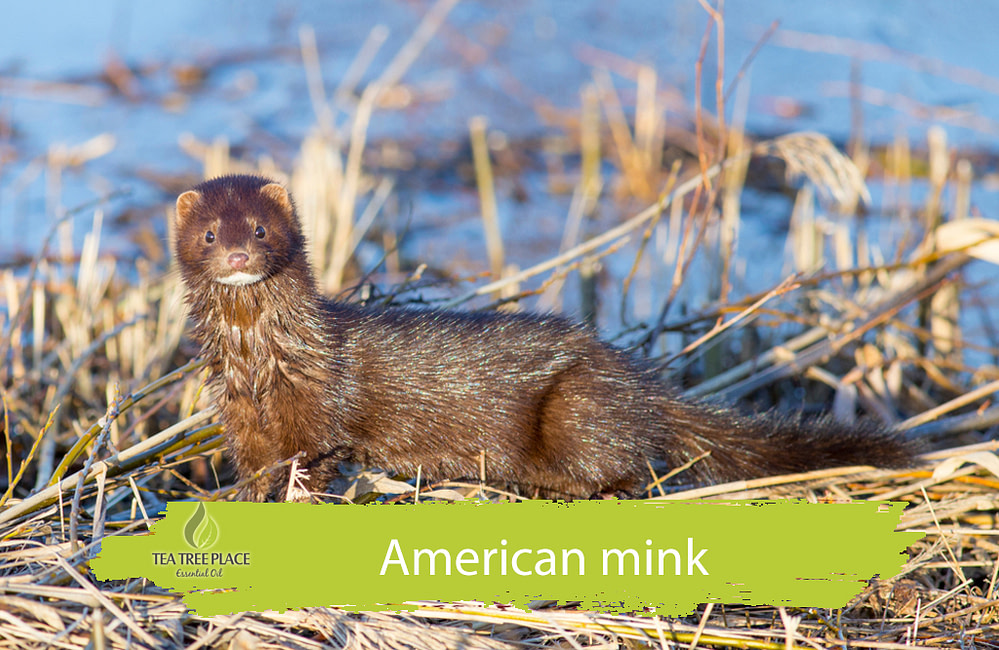 Properties
Mink oil has some therapeutic properties that make it suitable as a skin and hair care ingredient.
Emollient – It moisturises the skin.
Rejuvenator  – it provides nutrition to the skin in the form of essential fatty acids and other nutrients. This helps in keeping skin healthier.
Occlusive – it seals the skin and protects it from wind, water and air.
Conditioning – mink oil makes an excellent ingredient in hair conditioners.
Antioxidant – even though this oil has high amounts of unsaturated fatty acids ( that are prone to rancidity ), this oil doesn't go rancid for weeks. This is probably because of powerful antioxidants in mink oil.
Cell regeneration -This oil promotes regeneration of skin cells. This can help one get healthier,  new skin by prompting the skin to exfoliate.
Softener – it softens the skin and makes it smooth.
Surfactant – it dissolves away dirt and excess oiliness on skin. Useful ingredient for cleansing creams and lotions.
Anti-inflammatory – mink oil is mildly anti-inflammatory.
Anti-pruritic – relieves itching.
Mink oil possibly has many more properties. Anti-ageing may be one of them, but these need to evaluated further.
Uses and Health Benefits
Mink oil can be used for a variety of purposes. One can use it to polish and finish items in the house, mainly leather goods. It is also used for personal purpose. Mink oil makes a useful ingredient in home made skin creams and hair conditioners. This is how to use mink oil properly.
Mink oil for Leather Polish
Mink oil makes an excellent leather polish. It is an ingredient in many commercial leather polish products. So, if your boots or the leather jackets are not gleaming enough to your liking, its time to apply mink oil. There is a brilliant way to enhance the results of a mink oil treatment.
The Enhanced Procedure : Take about a teaspoon of mink oil and warm it on the stove. The oil becomes more easily flowing and viscous. Now warm the leather boot, or jacket or any other product that you want to polish. This opens up the grain size of the the leather ( micro-structure ) and makes it more receptive to the oil treatment. Now, rub the oil into the leather and smooth it with a clean cloth. Make sure you spread it all around. Wait for 5 minutes. Use a different cloth and gently wipe the surface. This takes away extra oil and any dirt, leaving behind a brilliant, clean and polished surface.
Mink oil also insulates the leather, keeping it safe from water and sun damage. So, you can wear your leather even in bright sunshine and rain.
Mink oil for Skin
Mink oil for skin is a different grade than for leather polish. This type of mink oil is extracted without using solvent extraction and no chemicals are used in this process. As a user, one should make sure that the mink oil you get is the "skin-friendly" grade mink oil. This oil is 99 % pure. It provides many health benefits for skin.
Dry skin – mink oil is a natural emollient. It moisturises the skin and makes it smoother. Cracks formed due to excessively dry skin are healed, like heel cracks. Best part about mink oil is that it absorbs well and goes deep into the skin, leaving the surface moisturised, but not oily.
Reduces minor inflammation – One can apply mink oil based cream on irritated and mildly inflamed skin, like an insect bite. It reduces the inflammation slowly.
Helpful in eczema, psoriasis and other kinds of dermatitis – Some people report that mink oil has helped them relieve eczema. This is how it is to be used. After a shower, do not wipe away all the water from the skin. This allows water to be absorbed into the skin. Now, apply mink oil all over the eczema lesions, or on your entire body. When it is absorbed too, apply another moisturising lotion, preferably natural. This simple skin care regimen can relieve the itching an discomfort of the eczema lesion.
For wrinkles – Massage mink oil into the wrinkles daily. One can expect to see some improvement within a few weeks. It can also work for age spots, but may not be super effective. Patience is the key to observing results.
Mink oil can also be used as an ingredient in many home made skin care products. This is a great option for DIY enthusiasts as they can make use of mink oil in their household products.
Mink oil skin lotion – Add a capsule of vitamin e to mink oil. This increases the potency of mink oil for application on skin.
Mink oil cream – Mix olive oil, mink oil, beeswax and any fragrant essential oil ( 3 – 4 ) to get an awesome smelling cream.
Mink oil and Human Sebum
Mink oil has a special property. It resembles the human sebum ( our natural skin oil ) in its chemical nature. Another such oil is Jojoba oil.  This helps people with excessively oily skin as well as dry, parched skin. When the skin is producing too much sebum, mink oil can drive away some of the sebum if you wipe your skin with a cloth covered in it. When the skin is too dry, it acts as the natural sebum, sealing moisture inside the skin.
Mink oil for Hair
Mink oil makes a nice hair conditioner. It changes the appearance of hair within seconds. After shower, just take a small amount of mink oil and massage it into hair shafts. It also detangles the hair, so no need for a detangler ( hair creme ) before combing. It helps to reduce dry, frizzy hair to some extent. But, it is important to understand that frizzy hair is often a result of a nutritional deficiency. It is generally not a good idea to massage mink oil on scalp, especially if you are prone to hair loss. It is a thick product and may lead to further hair loss. So, just keep it to the hair shafts.

Mink oil can also be massaged to make the hair of your pet smooth and shiny. Rub a small amount of mink oil in their fur and notice the difference. Dogs and cats tolerate this oil well.
Side Effects and Toxicity Issues
Mink oil has been found to be safe for most people, even for people with sensitive skin. However, it may cause adverse reactions in some people. Mink oil is not at all edible. Mink Oil not for Acne People who have active acne should avoid mink oil. That's because it is Comedogenic ( may block skin pores ). If pores on the skin are blocked, there is high chance that it may turn into a pimple, or worse into a cyst. Mink oil has a comedogenicity of 3 ( on a scale of 0 to 5 ). "0" is non-comedogenic and safe for acne skin. "5" is highly capable of blocking pores and can lead to breakouts. "3" stands for moderately comedogenic. So, there is no need to take any risk and apply mink oil on acne. One should instead go for non-comedogenic oils, like jojoba oil, hemp seed oil and shea butter.
Nutritional and Medicinal Information
Mink oil is predominantly unsaturated fat. The major nutrient in mink oil is palmitoleic acid, which is an omega – 9 MUFA ( monounsaturated fatty acid ). Mink oil typically contains about 17 % palmitoleic acid. It is a very high amount of this fat to occur in an oil derived from animal fat.
There are however oils that provide more palmitoleic acid than mink oil. These are sea buckthorn oil ( 40 %  palmitoleic acid ) and macadamia nut oil ( 22 % palmitoleic acid ). Of the total fats, unsaturated fats make up 75 %. It thus has about 25 % saturated fat and some other nutrients in trace amounts.
In depth nutritional profile of fatty acids in mink oil.
| | | |
| --- | --- | --- |
| Nutrient | Percentage | Property |
| Palmitic Acid |  18 % | Saturated fat |
| Stearic Acid |  2.6 % | Saturated fat |
| Palmitoleic Acid |  17.9 % | MUFA |
| Oleic Acid |  44.9 % | MUFA |
| Linoleic Acid |  12.3 % | PUFA |
| Alpha Linolenic Acid |  0.5 % | PUFA |
| Myristoleic Acid |  0.6 % | MUFA |
| Eicosenoic Acid |  traces | PUFA |
| Behenic |  traces | PUFA |
| Erucic |  traces | PUFA |
Although the most important nutrient in mink oil is palmitoleic acid, it is not the largest, as we can see from the table. Mink oil is largely comprising oleic acid, which is an omega-9 fatty acid.
So, we have seen the nutritional quality and value of mink oil. Besides the nutrients, an oil also has many significant chemical properties, like the ORAC value. ORAC stands for Oxygen Radical Absorbance Capacity, which means the capacity of the substance to absorb free radicals. This value essentially provides the Antioxidant power of mink oil.
| | | |
| --- | --- | --- |
| Nutrient | Percentage | Property |
| Acid number |  65 mg KOH/g | Measure of acidity |
| Free fatty acids |  32 % | Unesterified fatty acids |
| Comedogenicity |  3 | Rated from 0 to 5 |
| ORAC |  – |  Antioxidant power |
References
1. Final amended report on the safety assessment of Mink Oil. NCBI.
2. Extraction, Characterisation and Valorisation into Value-Added Products of Residual Mink Fat. D. Berthiaume, A. Tremblay, J. Labrecque, and J.-Y. Bergeron.
3. Comedogenic Ratings  – Beneficial Botanicals.